My name is Annie Reid.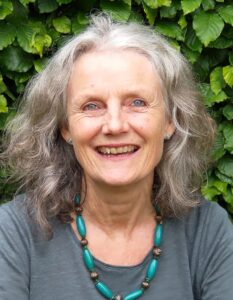 I live in Mid Devon and have previously worked as a midwife, health visitor and psychotherapist. I now work independently as Early Days Support so that I can spend more time focusing on supporting wellbeing and strong connections between babies and parents.
I bring to Early Days Support my broad experience and a passionate belief in the importance of mothering. I believe the partner has a crucial role in supporting mother and baby, that facilitates family wellbeing. I believe communication and mutual appreciation for your different roles are key and that both parents benefit from support to enable them to do the exceptional job that is caring for a newborn baby.
My role is to bring out the best in you – your resourcefulness, courage and confidence in your ability to communicate with your baby and meet their needs to enable them to reach their potential.
My qualifications
These include:
Midwifery (DipHE University of Plymouth, Distinction)
Health Visiting (BScHons Specialist Community Public Health Nursing, University of Greenwich, First Class)
Psychotherapy (Diploma Core Process Psychotherapy, Karuna Institute, Devon).
Newborn Behavioural Observations (The Brazelton Centre UK)
Breastfeeding Management (UNICEF).
Developmental Baby Massage (Certified teacher). This form of massage supports your baby's physical development, promoting muscle relaxation and  joint flexibility.
I also use skills from Integrative Baby Therapy, which I am currently training in. This is a way of working with babies (with their families) that gives space for the story they need to have heard about their experience.
© 2021  Annie Reid Early Days Support. All Rights Reserved.